Designer for film, TV, events and theatre
Isobel has created sets and costumes for venues including Paris Fashion Week, the Marlowe Theatre, the Arcola Theatre, Chickenshed, the Vaults, RADA and the Warwick Arts Centre and has created pieces for immersive events at Shakespeare's Globe Theatre, The National Trust and Le Meridien Piccadilly.
In 2016 she designed and art directed her first feature film, Aghori. Short film work includes the multi-award winning "A Pinprick of Light","When The Rain Sets In", "The Sands of Time", "Ghillie", and "You're Absolutely Right", and music video designs include "Ride of Your Life", which has had nearly 6 million YouTube hits. Corporate clients include the Home Office, Action For Children and John Lewis, and in 2018 she designed and created pieces for children's dens in CBBC's "The Dengineers". An episode Isobel was pivotally involved in, featuring a Victorian-themed den, won the Children's BAFTA for a factual entertainment show in 2019.
Prior to RADA, Isobel completed an Art Foundation course (specialising in Design for Performance) at Wimbledon College of Art and a BA in English Literature at Warwick University. Isobel has taught on both RADA's technical theatre course its theatre design summer school, and has run workshops for the British Library and the National Gallery.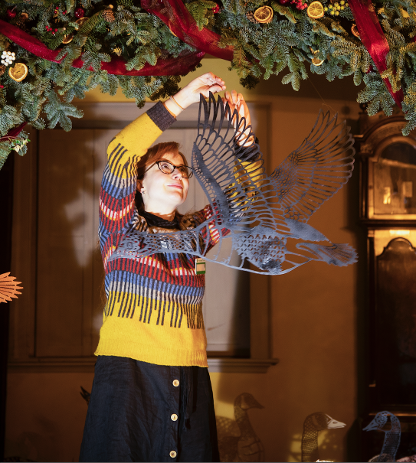 Skills
Design
Textual analysis
Illustration and graphic design
Storyboarding
Model making
Vectorworks / Sketchup / Adobe Suite
Budgetting
Teaching
Prop and puppet realisation
Scenic Art
Basic power tools
Basic wardrobe skills / costume breakdown
Millinery / jewellery making
Sign Writing
Qualifications
2012 – 2014 Royal Academy of Dramatic Art
Postgraduate Diploma in Set and Costume Design
2009 – 2012 University of Warwick
BA (Hons) English and Related Literature, First Class Honours
2008 – 2009 Wimbledon College of Art, University of the Arts London
Foundation Diploma in Art (specialising in Design for Performance), Distinction