Designer for film, TV, events and theatre
Isobel has created sets and costumes for venues including the Marlowe Theatre, the Arcola Theatre, Chickenshed, the Vaults, RADA and the Warwick Arts Centre and has created pieces for immersive events at The National Gallery, Shakespeare's Globe Theatre, The National Trust and Le Meridien Piccadilly.
In 2016 she designed and art directed her first feature film, Aghori. Short film work includes the multi-award winning "A Pinprick of Light", and music video designs include "Ride of Your Life", which has had nearly 6 million YouTube hits. Corporate clients include the Home Office, for whom she art directed an educational video on modern slavery, and in 2018 she designed and created pieces for children's dens in CBBC's "The Dengineers". An episode Isobel was pivotally involved in, featuring a Victorian-themed den, won the Children's BAFTA for a factual entertainment show in 2019.
Prior to RADA, Isobel completed an Art Foundation course (specialising in Design for Performance) at Wimbledon College of Art and a BA in English Literature at Warwick University. Isobel has taught on both RADA's technical theatre course its theatre design summer school.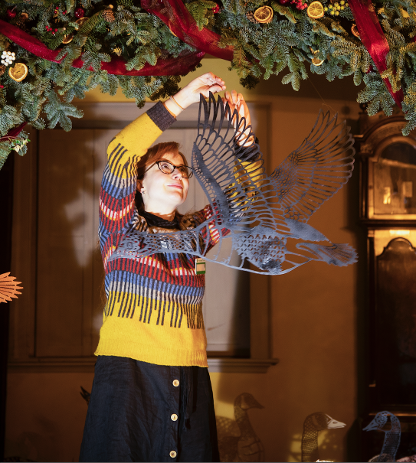 Production Design Credits (Theatre & Film)
2019
Designer, Sudbury Hall Festive Installation, National Trust
Designer, stoning mary, GBS Theatre, RADA, Dir, Ché Walker
Set Designer, Sleight of Hand on The Strand, Dir. Tony Middleton
Production Designer, The Sands of Time, Dir. James Hughes
Designer, Magical Moggie (Touring theatre show), dir. Natalya Martin
Production Designer, Clearing (Short Film), Dir. Janet Marrett
Production Designer, Manmade (Short Film), Dir. Isabel Palma
Installation Designer, Maskelyne & Cooke (Magic Bar), Prod. Tony Middleton
Production Designer, When The Rain Sets In (Short Film), Dir. James Hughes
Set Designer / Set Decorator, Glamour (Feature Film), Dir. Richard Perry
Set Designer, Animal Farm (Filmed Puppet Production), Dir. Jeff Naylor
2018
Set Designer and Co-Curator, The School of Night, The Marlowe Theatre, Co-Curator: Andrew Dawson
Art Director, Ghillie (Short Film), Dir. Mike Marriage
Set Designer, Marlowe's Ghost (Escape Game), The Marlowe Theatre, Game Designer: Ben Fitter Harding; Co-Set Designer: Suzanne Burlton
Costume Designer / Maker, Suburbaret, Touring, Dir. Gareth Edward
2017
Set & Costume Designer, Dracula, Sutton House, Dir. Katherine Armitage
Set Designer, Cleo, Camping, Emanuelle and Dick, Rhodes Theatre, Dir. Gailie Pollock
Art Director, Impact (Short Film), Dir. Ganga B. Pun
Art Director, A Pinprick of Light (Short Film), Dir. Kasra Karimi
Art Director, Modern Slavery Video (Educational Video), The Home Office, Dir. Gulliver Moore
Art Director, Selfish (Short Film), Dir. Fernando Lazzari
Art Director, Get It On, (Music Video), Dir. Tai Campbell
Set Designer, The Secret Cellar, (Magic Venue), The Vaults, Dir. Tony Middleton
Set Designer, Care, Courtyard Theatre, Dir. Emily Marshall
Art Director, Marc Vedo: Ride of Your Life, (Music Video), Dir. Andrea Vinciguerra
2016
Production Designer, Aghori, (Feature Film), Dir. Tarun Jasani
Set & Costume Designer, Dracula, Sutton House, Dir. Katherine Armitage
Set & Costume Designer, Silent Sisters, Touring, Dir. Mukul Ahmed
Set Designer, Oscar and the Lady in Pink, Touring, Dir. Mukul Ahmed
Set & Costume Designer, Punjabi Boy, Hounslow Arts Centre, Dir. Mukul Ahmed
Set & Costume Designer, Punjabi Girl, Rich Mix Theatre, Dir. Mukul Ahmed
Set Designer, Lord Hicks: The Grindr Song (Music Video), Dir. Josh Cockcroft
2015
Set & Costume Designer, Legally Blonde, Upstairs at the Gatehouse, Dir. John Plews
Set & Costume Designer, Altab Ali, Brady Arts Centre, Dir. Mukul Ahmed
Set & Costume Designer, Two, Chickenshed Theatre, Dir. Rachel Yates
Costume Designer, As Is, Bedlam Theatre, Edinburgh, Theatre, Dir. Milla Jackson
Designer / Stage Manager, Punjabi Boy, Rich Mix Theatre, Dir. Mukul Ahmed
Set & Costume Designer, Vernon God Little, The Space Theatre, Dir. Katherine Timmes
Designer / Stage Manager, The Domestic Extremists, The Space Theatre, Dir. Ben Borowiecki
2014
Set & Costume Designer, The Lion, The Witch & The Wardrobe, Pantiles, Tunbridge Wells, Dir. Sophie Gilpin
Set & Costume Designer, Faraway, So Close, Old Fire Station, Oxford, Dir. Amy Hailwood
Set & Costume Designer, Punk Rock, Gielgud Studio, RADA, Dir. Jude Christian
Costume and Prop Designer, The Egg, Coney, Dir. Tom Bowtell
Set & Costume Designer, The Daughter-in-Law, George Bernard Shaw Theatre, RADA, Dir. Deborah Paige
2013
Set & Costume Designer, Black Sand, Grimeborn - Arcola 1, Dir. Stuart Barker
2012
Event designer / Workshop Tutor, National Gallery Winter Wonderland Workshops
Realisation and Assisting Credits
Art Department, Scenic Art and Model Making
Scenic Art
Clients include: John Lewis, Next, White Stuff Clothing, The Polka Theatre, Gingerline Group, The Cuckoo Club
2018
Design Assistant, The Dengineers, CBBC
2015
Model Maker, Twinings Tea Advert, Designer: Stripeland
2014
Model Room Placement, Royal Opera House
Design Assistant, The Witch of Edmonton, Designer: Adrian Linford
2009
Prop maker / milliner, Events Department, Swan at The Globe
Teaching
2016 - 2017
Freelance Design Tutor, London Theatre Factory
2013-2014
Assistant tutor, RADA Theatre Design Summer School
Skills
Model making
Textual analysis
Illustration
Technical drawing (hand and AutoCAD)
Puppet making
Prop realisation
Scenic Art
Basic power tools
Basic wardrobe skills / costume breakdown
Millinery / jewellery making
Basic photoshop
Sign Writing
Qualifications
2012 – 2014 Royal Academy of Dramatic Art
Postgraduate Diploma in Set and Costume Design
2009 – 2012 University of Warwick
BA (Hons) English and Related Literature, First Class Honours
2008 – 2009 Wimbledon College of Art, University of the Arts London
Foundation Diploma in Art (specialising in Design for Performance), Distinction